"At Last, You'll Never Have To Leave Your Home For Drywood Termite Treatments Again"
Hi, I'm Chet Rowland, owner of Chet's Termite & Pest Management. I've been killing termites in the Tampa Bay Area since I was a 14 year old boy and I've owned/operated my company for over 30 years.
As you can imagine, in the 42 years I've been in the business, I've tented A LOT of homes for drywood termites. Perhaps, I tented your home in the past or you know someone who has a house or office building I've tented.
During the years, I've listened to customers complain about what a pain in the butt it is to prepare for the tenting.
Believe me, I know it's a hassle and it really sucks!!! Bagging your food… moving out for 3 to 4 days…boarding your pets… giving up your house keys to a complete stranger…and the list of hassles go on and on.
But, I didn't believe in any other treatment method……UNTIL NOW.
After 41 years, a year of research and many, many trips to California, I've finally discovered the ONLY alternative solution to termite tenting. That's right, NO MORE TENTING!! That sounds so good, doesn't it??
In a recent customer survey, here's a partial list of what my clients and prospects said they dreaded about having their house tented with a deadly, corrosive, toxic gas. Which of the following do you want to avoid dealing with?
• No More Giving Your Keys To Strangers
• No More Removing Food From Freezers
• No More Break-In/Burglaries
• No More Opening Closets & Cabinets
• No More Moving Out For Days
• No More Opening All Attic Holes
• No More Boarding Your Pets for Days
• No More Unplugging Electrical Appliances
• No More Pets Killed By Toxic Gas
• No More Removing Fish From Aquariums
• No More Leaving Windows Wide Open
• No More Removing inside Plants
• No More Eating Your Meals Out
• No More Removing Tobacco Products
• No More Sleeping In A Strange Bed
• No More Removing Waterproof Mattress Covers
• No More Waiting To Get Back In Your House
• No More Unlocking All Your Interior Doors
• No More Throwing Away Your Food
• No More Removing Water Coolers
• No More Need For Electricity
• No More Fogouts
• No More Paying To Have your Gas Turned On
• No More Climbing On Your Roof
• No More Removing Cars From Your Driveway
• No More Climbing On Mobile Home Roofs
• No More Cold Weather Delays
• No More Smashed Gutters
• No More Hiring A Guard To Watch Your House
• No More Roof Damage
• No More Leaving Your Home…Period!!
• No More Smashed Roof Vents
• No More High Wind Delays
• No More Busted Chimneys
• No More Bagging Medicines
• No More Disconnected Wires
• No More Bagging Pet Food
• No More Paint Removal From Sealed Walls
• No More Removing Pool Screens
• No More Removing Fences
• No More Removing Decks
• No More Lowering your Awnings
• No More Broken Lawn Sprinklers
• No More Climbing On Aluminum Roofs
• No More Dead Grass
• No More Disconnecting Trellises
• No More Dead Plants or Shrubs
• No More Holes Dug In Your Yard
• No More Watering The Day Of The Treatment
• No More Digging Up Outside Plants
• No More Raking Back Gravel/Rocks Around House
• No More Raking Back Leaves & Mulch
• No More Removing Vines Attached To House
• No More Cutting Back Tree Branches
• No More Trimming Back Shrubs
• No More Re-Aligning Satellite Dishes
"OUR EXCLUSIVE IRON-CLAD, NO WIGGLE ROOM, SIMPLE,
STRAIGHTFORWARD,ORGANIC XT2000 ORANGE OIL
DRYWOOD TERMITE GUARANTEES."
Here's the bottom line, I guarantee you we will eliminate the drywood termites in any area we treat or I'll retreat it for free and refund 100% of your initial investment if live drywood termites are found in the area originally treated within the first year. You will not find ANY company willing to match these guarantees.  Here are the details:
1. GUARANTEE #1: If, within one year of your 1st treatment, we uncover LIVE drywood termites in the same wood previously treated with XT2000 Orange Oil, I will re-treat that area for FREE and Refund YourENTIRE Initial Investment. (See Testimonials!!)
2. GUARANTEE #2: Anytime during your active service agreement we uncover a LIVE colony of drywood termites in the structure originally treated, we will re-treat for FREE…. EVEN IF YOU SELL THE HOME AND MOVE OUT!
(See Testimonials!!)
Frankly, there's no way on earth I could afford to do
this-unless I was successful at making homes just like yours drywood termite-free and at keeping customers
for life.  Which I am.  So, take note: There's no fine print here.  No little asterisk marks like this (*) with footnotes in tiny type.  No "weasel clauses".  No attorney language. I guarantee any area we treat to be free of live drywood termites PERIOD. And, incidentally, I have a standing offer for any other termite & pest control company: Prove that you've matched and honored an identical guarantee for at least 5 years in this area and I'll donate $500.00 to any charity of their choice.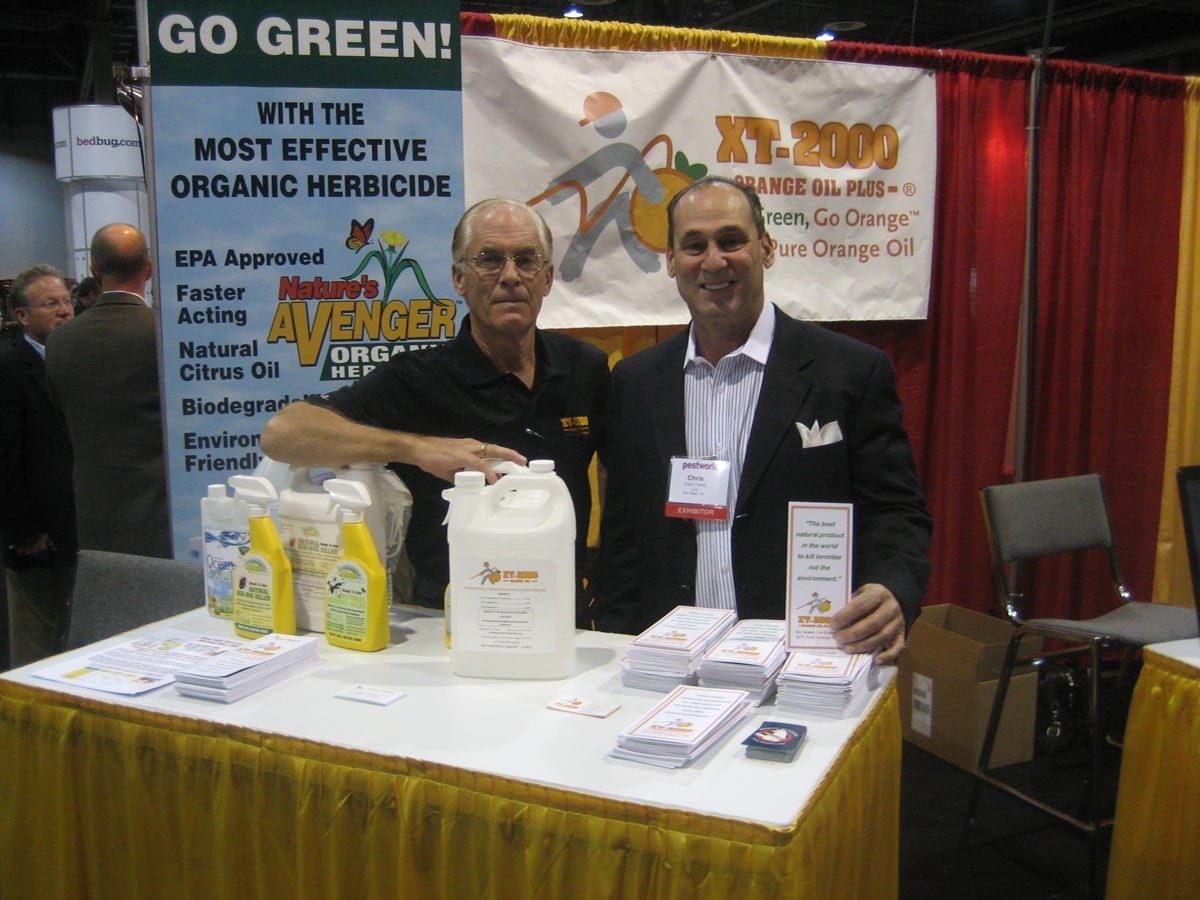 Signed:



CHET ROWLAND,
Owner
Chet's Termite and Pest Management


How Can We Absolutely Guarantee YOU A Drywood Termite Free Home And Keep That Promise, When Most Other Termite & Pest Control Companies, Even "Big Names", Have All Kinds Of Sneaky Fine Print And Escape Clauses In Their Contracts, Pile Up Consumer Complaints At The Better Business Bureau, And Simply Fail To Honor Their Promises?"
Yes, the guarantees above are real, straightforward and have been honored for over 30 years, as we've served well over 37,982 Florida customers.  Many stay with us for life.  92.7% of our new business comes from referrals. Just like you probably have.  Why? Because, on top of very courteous and reliable service by the most experienced technicians in the industry that I personally trained, my company flat-out delivers on its guaranteed promise of a drywood termite-free home.  How can we do that?  A big part of the answer is:
MY UNIQUE 19-STEP TREATMENT SYSTEM THAT SIMPLY LEAVES DRYWOOD TERMITES NO PLACE TO HIDE.
Look, a lot of companies will make you empty promises and that's about it.  Watch any other company's people at work and see if they match up with MY treatment system.
OUR UNHEARD OF IN THE TERMITE INDUSTRY $100.00 CHALLENGE:
Have us come and do this 19-Point Inspection with you watching, when your house has been treated by any other termite & pest management company.  If we don't find and point out to you important flaws with the service you have chosen, we'll pay you $100.00.
Even more detailed information about this 19-Point Inspection is available at www.ChetsPestControl.comor in a brochure available upon request.
QUESTION: 
"CAN I GET BY WITH A LESS THOROUGH AND CHEAPER SERVICE?"
Maybe.  But you'll find our prices are about in the middle of the market, not the cheapest but definitely not the highest, and there are NEVER hidden charges or surprises, or "low ball" quotes then lots of "up-selling."  Over 30 years in business and over 37,982 customers say: our prices are fair.  More importantly, the costs of settling for a "bottom-barrel", cheap service that basically just gives you empty promises can be very, very high—from just the annoyance of paying for a hotel room for several nights, cost of eating out and the inconvenience of being out of your home for several days. …to having termites do very serious damage before you know what hit you.  Saving a dollar or two and settling for less than our proven, NO RISK, MONEY BACK GUARANTEED service really is no bargain at all. Think about it. This is too important of a service to be cutting corners.
Testimonials
Dear Chet,
"Just wanted to drop you a line to say how impressed I am with your company. It began with the initial termite inspection and remained throughout the entire treatment process. A few months ago I noticed evidence of termites and immediately began the arduous task of getting estimates. The first company, a small company, was in and out very fast and did nothing to "sell" their company. I didn't even get 10 minutes of "this is what I've found" from the inspector. The next two companies were the biggest names in the business. Both were very good, but they were also good at putting down each other and discounting what the other company recommended . They also made you feel like they were strong arming you to sign a contract. I assure you my confusion was getting to me. I was suffering information overload!
I recently had a community book delivered to my home listing various 5 star rated companies in the Tampa Bay Area. Your company was the only termite company listed. I quickly called and set up my fourth termite estimate. When your team arrived (the only company who sent out more than one person) I was immediately impressed with their professionalism. They put booties on their shoes to protect my floors, found evidence of termites where none of the other companies had found them, actually went up into all three attics, drew a very detailed diagram of my home, and took their time explaining all my options to me.
Because I have several pets, my preference was the Orange Oil treatment in lieu of tenting my home. On the day of the treatment, your employees showed up on time and immediately began their duties. Again, they protected my floors with booties and laid down plastic sheets as added protection. They were actually quite comical when they would inject the oil and a live termite would come out of one of the lower drill holes.
Kenny definitely presented himself as the crew "leader" and showed a true interest in educating the younger gentleman he was working with. He would let him explain things to me and if something was exactly right, he would politely correct him. Before the end of the treatment, Kenny was even helping me drain my fish tank!!! Again, thank you so much for helping me through this situation. It's good to see that there are businesses around that still focus on customer service."


Robin McCarthy

---
Please feel free to use us as a referral
Dear Mr. Rowland:
"We wanted you to know how much we enjoyed having the opportunity to work with Manny, talk with Robin, Carol, Erin and work with Kenny, Shawn and Junior in order to hopefully rid our house of termites.  Everyone was very knowledgeable, friendly and patient for those of us not in the business.
One suggestion we have is that Chet's Termite should specifically point out to the homeowner, in advance, the possible destruction of plants before any treatment occurs.  It created no problem for us, but advance notice would give the homeowner time to remove the plants. It was a pleasure doing business with your company and we not only look forward to continuing to work with you in the future, but also will not hesitate to recommend Chet's Termite.  Please feel free to use us as a referral and we will certainly recommend your company to anyone we speak with."
Again, thank you.
Very truly yours,
Dirk V & Sandra E Tolle
---
Have been far happier with Chet's
Dear Mr. Rowland:
"I wanted you to know that I would gladly recommend Chet's for any one's household pest control needs.  I have employed other pest control services in the past but have been far happier with Chet's than any of the others.They arrived promptly as scheduled and were respectful of my time.  Most importantly, they also do a very thorough and effective job.  Kenny Hill was my technician and he was very knowledgeable, polite and considerate.  He was always tidy and did not leave a mess behind when he worked.  In addition, twice he has returned to my home to personally address some concerns I had without making me feel I was inconveniencing him.  He always has a smile on his face while answering any questions I may have.The rates were reasonable and I believe highly competitive and an excellent value for the level of service received. I have experienced no problems with your company and have referred others to you as well.  It makes me proud to refer a small local business." 
Doris Chiclana
3430 Sunrise Villa Ct N
Tampa, FL 33614
---
Your company was highly recommended
"We wish to thank you for sending a very professional crew to our home to perform the treatment to rid us of the aggressive termites. You should know that we obtained inspections and quotes from four (4) termite/pest control companies in Tampa. Your representative, Shawn Ross, presented us with information about your company and the product, XT2000 Orange Oil Plus  that convinced us to select Chet's. Also, your company was highly recommended to us by Dr. Sansoucie on Swann Ave. where our daughter works as a dental hygienist.We knew we had made the best choice after Kenny and his crew arrived and commenced the work. They proceeded to drill and inject the product as described by Shawn, and were very neat in filling the holes inside and cleaning up any residue left from drilling, both inside and outside the house. Both Kenny and his crew worked straight through until the job was completed.
Thank you for a job well done. Our special thanks to Kenny for his professionalism and attitude. We certainly will be happy to recommend Chet's to our friends and family."
Sincerely,
Jet and Bob Babis