Our New 57-Point Bug Audit Reveals… "How to Boot Out your Annoying Pests at Absolutely No Risk to your Pocketbook"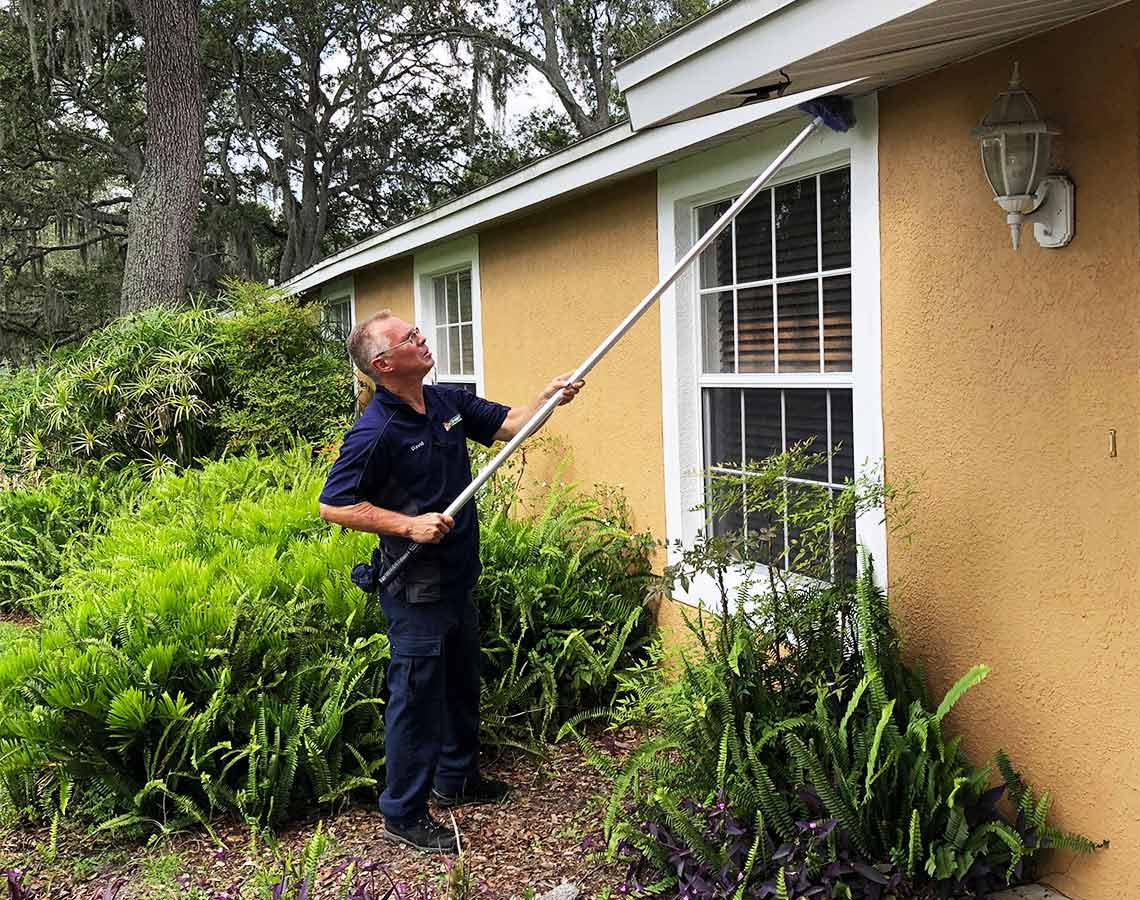 I'm Chet Rowland, the owner of the only termite & pest management company in Florida with this very powerful and risk-free pest guarantee. (Believe me, if your pests could read it, they'd hightail it fast and never even think of coming back.)
Even better, when you call to schedule your treatment, I'll give you $225.00 in FREE bonuses!
Let's face it. Not all pest management companies give bugs an equally bad time. The industry, I'm sorry to report, has problems: con-artists, disreputable technicians, and even national companies who cheat on their customers. Shame on them! In the meantime, tens of thousands of destructive, disease-carrying pests have been left undetected to party round the clock in thousands of Florida homes….
Homes like yours. Without my unique 17-step Pest Management System, your home will just sit there exposed to the ravages of all those crawling, disease-infested critters. Before you know it, days will have turned into weeks, then months…then years. If your bug company hasn't done the job it said it would do, you won't discover the problem until it's too late.
Now you know why you can't shop pest control on just price alone. It doesn't make sense, neither for your pocket book nor your peace of mind. Just one overlooked infestation can result in thousands of dollars more than the so-called "savings."
Hear me out. All the time I talk to people who say they already have pest control service. Just recently I asked one of them, "You have pest control service?" He says, "Yeah, I've got this guy. He comes by, you know, every month." Then I look around and do a quick inspection of his home. I ask again, "You sure you have pest control service?" He looks at me as if I'm a moron: "What are you trying to tell me?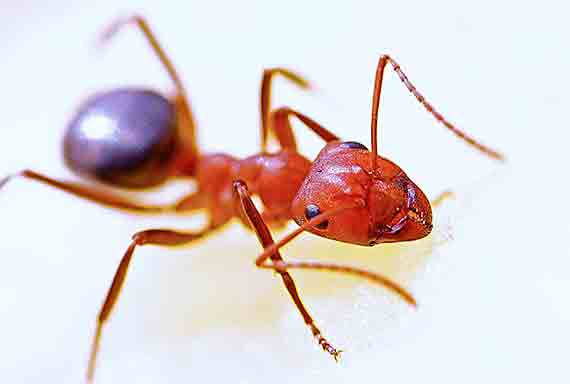 Carpenter Ants Destroy Wood Railroad Tie
I point to one wall inside his garage. "Look up here and let's start counting. You've got over fifty spiders up there spinning out of control. You've got a wasp's nest over here. Down in the corner, you've got ants crawling out from that crack. Over there is a subterranean termite mud tube. You sure you've got pest control service?" If he catches my drift, I'll hear a nervous laugh. I go on. "Let me ask you this. He's charging you how much? $25.00 a month? Times that by 12, that's $300.00 a year." Then I say, "Since your bugs appear to be sticking around, you might as well stick your $300.00 in your hip pocket. Or…you can pay me to do it right. Which do you want?"
Before he has a chance to reply, I tell him exactly why my service gets the job done right, first time through. And why I'm so confident of my no-risk 30 & 60 DAY PEST CONTROL MONEY-BACK GUARANTEE.
My Unique 17-Step Pest Control System Leaves Bugs No Place To Hide or Breed.
After 40 years in the business, you gotta believe I know what I'm doing if I'm going to do the job right. To give you some clues of that, look over the following list. Then read over 12 detailed descriptions of what they all mean.
Chet's Unique 17-Step Pest Control System
Initial Clean Out
1. 57-point bug audit and inspection
2. Dust attic and/or crawl space
3. Remove switch plates and electrical outlets, apply dust or baits.
4. Drill and treat kick plate voids under kitchen cabinets and vanities
Interior Treatment
5. Inject cracks and crevices in kitchen and bathroom cabinets
6. Treat around all of doors and windows
7. Pull back plumbing covers in shower and under sinks
8. Treat under and around refrigerator, washer, dryer and hot water heater
9. Treat around top and bottom of garage or carport
10. Remove spider webs
11. Look for new termite mud tubes around garage expansion joints
Exterior Treatment
12. Treat all eaves and soffits
13. Remove spider webs and wasp nests
14. Treat around doors and windows
15. Treat around garbage cans, wood piles, under decks
16. Spread six foot band of granules around house (NEVER ON CONCRETE)
17. Check for new termite mud tubes and wings of swarming termites
Of course, you may suspect that our inspection would tempt us to "find" bug problems that were not there. I don't blame you. All I can say is, read the following testimonials:
"Yesterday I had the pleasure of meeting with your representative, a professional who brings back meaning to the word 'honesty.' Your representative examined the areas of my concern, and, to my relief, told me that the damage had been caused by rot rather than by insects, and also, that there were no sign of any insects. His professional manner immediately put me at ease, but the degree of apparent competency he exhibited made me feel confident not only that he had told me the truth, but that I could confidently refer him and Chet's Termite and Pest Management to my friends!"
Michael E. Ladd
Policeman Tampa,
Florida
"Dear Mr. Rowland: I wanted you to know that I would gladly recommend Chet's for any ones household pest control needs. I have employed other pest control services in the past but have been far happier with Chet's than any of the others. They arrived promptly as scheduled and were respectful of my time. Most importantly, they also do a very thorough and effective job. Kenny Hill was my technician and he was very knowledgeable, polite and considerate. He was always tidy and did not leave a mess behind when he worked. In addition, twice he has returned to my home to personally address some concerns I had without making me feel I was inconveniencing him. He always has a smile on his face while answering any questions I may have. The rates were reasonable and I believe highly competitive and an excellent value for the level of service received. I have experienced no problems with your company and have referred others to you as well. It makes me proud to be able to refer a small local business."
Doris Chiclana
"Today we had Kenny Hill and his assistant, Ralph come by and do our yearly inspection. I was very impressed with them as I have been with all your employees. Hal was,by last year and also did great. Your folks are very thorough and carefully inspected my older home. I work in public service, I am a deputy sheriff, and I realize the importance of being professional. Your guys are always friendly and professional and I have recommended your company many times to friends. My father who is 91 years old first recommended your company to us and we wouldn't take our business anywhere else. Thanks again."
Jim Hicks
"I would like to tell you of the outstanding performance and service that was provided by Andrew. He did a great job explaining what he was doing and made sure his work was done right, if not better than right the first time. Also, he is always on time and if he is going to be late I always receive an immediate call, which is much appreciated. I was happy to build a certain trust with him and your company. This made me feel comfortable when I was out of town and knew my service would be done, and my house was in safe, good hands. I also enjoy the service I receive while talking on the phone to your associates. They were always happy to talk with me and fix any scheduling problems. I enjoy being on a first name basis with them and they seem to know who I am and what I need. This is usually hard to find these days and it's refreshing to work with people who enjoy their work. Thank you for your hard work. If I ever have a termite problem I will definitely call Chet's and recommend you to anyone."
Dan Goodspeed
Entrepreneur
"On 7/16/10 Junior and his team stopped by our office to check for bugs. They greeted me and introduced each person. Very sweet and personable as well as professional. Junior explained what he and his team would be doing. They were very easy to talk with and seemed to love their job. Based on my first impression of the company, I would highly recommend their services. Sincerely,"
Elizabeth Ether
Tampa, FL
1. Gnat–Picking Inspections That Won't Miss Even A Gnat. Before we start applying one ounce of treatment, we have to know exactly what pests you have. Different bugs demand different treatments. That's why we do a thorough inspection of your home, top to bottom, nook to cranny (using our list of 57 termite/pest inspection points).
2. Bugs Bite The Dust In Hidden Breeding Hollows. Next we go under your kitchen and bathroom cabinets. Beneath each of them we find four-inch hollow voids. Bugs Love'em. So, if there no are openings, we drill a few discreet holes and inject a treatment. More bugs bite the dust.
3. Bugs Get Birth Control In Cracks & Crevices. Every crack and crevice found in the walls, floors and ceiling of your home are open doors to bugs. But the cracks can be turned to our advantage. Using a specially designed straw, we inject a substance that actually stops bugs from breeding. Sure, they keep doing "it." But they have no idea that their fast and loose habits are taking the whole infestation bugs down a one-way street.
4. One Squirt Bars Doors & Windows To Bugs. Even the smallest of cracks allows some bugs to enter your home. Windows and doors are no exception, even when insulated. So we treat them too, especially for bugs that fly.
5. Moisture-Proof Dust Zaps Bugs Around Unseen Drinking Fountains. Around every water outlet in your home you'll find a small round chrome cover. It makes things look attractive and finished. Except, it also hides a dark, damp hole that bugs love to crawl into. Why? The hole contains moisture, dripped in from a leaky faucet or shower head. Bugs can go for 10 days without food. But they need moisture every day. That's why we shoot in a special, moisture-proof dust. So when the bugs come back for a drink, they pick up the dust on their legs and bodies and take it back to the nest. A fatal mistake. Once they start grooming each other, the dust ends up killing them.
6. Dust Zaps Bugs Hiding In Dry Holes. So where do the bugs go after taking a drink? Back to holes that are warm and dry. Holes found behind all your electrical outlets and switch plates. One puff of bug dust and the hole becomes a death trap.
7. Bugs Cleaned Out From Under Appliance Hot Spots. Speaking of moisture, for a great many bugs, under appliances can be a favorite retreat. Again, they are dark and musty. With one treatment, we turn them from sleazy watering holes into merciless killing zones. (To bugs, that is, not humans or pets—see my P.S., end of letter.)
8. "Spiders And Wasps Swept Away With Giant 20-Foot Bug Bar." All around eaves and soffits, you'll find all kinds of spiders and wasp nests. To zap the spiders you have to put a direct hit on them. So we spray immediately. Problem is, you still have all the webs and mud hives stuck up there in hard-to-reach corners. That's when our 20-foot "Bug Bar" makes its play. With it, we sweep away all bug remains. No other pest control company does this.
9. Bugs Wipe Themselves To Death. Next, we treat the eaves with a special "micro-encapsulated" product (it dries on anywhere). We think of it as a tiny cold capsule, except it kills bugs instead of bacteria. Pests work their way in from the outside. And they don't bother to knock before coming in. Which means you have to knock them out before they even try to get inside. The capsules slowly release a small amount of insecticide each day. When a bug crawls across a treated surface, it picks up the capsules and, again, end up grooming itself—to death.
10. "No Bug's Land" Created From Six Foot Band Of Slow Death. Since we are on the outside, we also treat underneath and around your garbage cans, woodpiles, porches and decking. To finish off, we spray a six-foot barrier around your whole house. So every time it rains or your sprinklers turn on, the water slowly releases the insecticide. Any bug that comes in contact with it faces fast extermination.
11. Ants and Roaches Work Themselves To Death. Bugs hide from the light. That means they're hiding more than crawling out in the open. For example, down in the mulch around your bushes and shrubs, you'll find them. Like roaches and ants. But how do you zap them? You don't. You get them to do their own work of death. When they come in contact with baits, they naturally take some of it back to their hiding places. As a result, they not only zap themselves, but also all the other bugs that help groom them.
12. Silverfish And Other Bugs Die Digesting Bad Books. Storage and utility rooms are famous for storing bugs, especially Silverfish. They like to eat the glue and cellulose found in books, boxes, and other paper products. One treatment and their food source suddenly turns to a bad dream they never wake from.
You ask, "But how do I know that all these steps will get the job done right, the first time through?" Well, read what more of my customers have to say about my service:
"I got to tell you, you have a very customer oriented employee with Andrew Munoz. He is fantastic. Andrew has been servicing our pest control needs for over three years, and I just wanted to tell you we appreciate his eagerness to provide us the best care imaginable. He always takes initiative to schedule our bi-monthly service calls and frequently extends himself to ensure that my wife's concerns about fire ants, carpenter ants, fleas and wasps are taken care of. It is a real pleasure to know that any problem we might be having is quickly and professionally addressed. "I just had the opportunity to put Andrew's responsiveness to the test again. He, once again, made an outstanding impression. When your office called this past week to schedule Andrew for his service call, I told the scheduler that we had bees and wanted to have Andrew out as soon as possible. After contacting Andrew, she told me that he would be at our house the following evening at 5:30 pm. Does he always work 10-12 hour days? After analyzing the problem, which was more involved than he had anticipated, he volunteered to return the next day with his supervisor. The next day, the two of them worked for nearly an hour to eradicate the beehive in our eaves. My sincere thanks for a job well done! "I'm not sure that if were not for Andrew, and his willingness to go the extra mile, that we would have had the problem taken care of so quickly and completely. Please pass on to him our sincere appreciation."
J. Frank Wattenbarger
Retired
Tampa, FL
"I became a customer of Chet's Pest Control this past year and would like to take the opportunity to let you know how pleased I have been with that decision. Marty Hauser is our Pest Control Engineer and has been very successful in eliminating our Carpenter Ants and Pharaoh Ant problem in addition to providing excellent service with our scheduled maintenance visits. Marty is thorough and knowledgeable and is punctual with every appointment, unlike many other home service providers; He is reliable, professional and courteous. "Thank you again for your valued service and quality staff. I look forward to remaining a loyal customer and will gladly recommend Chet's Termite & Pest Management and Marty to my friends and colleagues."
Rhonda Coreen
Administrative Assistant
Lutz, FL
Granted, that still may not be enough. If you're like most of my new customers, I'd say you're worried about not getting what your home truly needs. Let me tell you, I understand…
With so many liars & cheats out there, how can you know for sure I'm not one of them? You take a quick, skeptical look at my 17-STEP CUSTOMER ASSURANCE CHECKLIST.
As I pointed out at the start of this letter, the pest control industry can be real pests themselves. I read in the paper that:
• In 1995, Florida's Attorney General got 480 complaints about, of all companies, Sears. They'd done a poor job exterminating termites for Florida homeowners. To add insult to injury, Sears refused to live up to their customer warranties, each valued at $250,000. The corporate giant tried to wiggle out from under them by pointing to small-print "weasel clauses."
• In 1996, one pest control company had to file bankruptcy when a class action suit came against them, involving 1,400 Tampa Bay homeowners. In this case, the company had not properly treated soil prior to foundations being poured. As a result, the new homes couldn't keep back swarms of pests.
• Around the same time, Terminix, one of the biggest pest control companies around, got into legal trouble when they'd been caught drilling dummy holes (or no holes at all) trying to fake treatments for subterranean termites. Thousands of Florida homeowners complained about their service from Terminix offices in seven cities: Orlando, Longwood, Deland, Jacksonville, Miami, Plantation and Port St. Lucie.
So what makes me think I'm not also one of these liars and cheats? Words are cheap, I admit. However, I can at least make the effort to educate you (consider this letter, for example).
Ok, let's say I've treated every nook and cranny in and around your home. I come over and hand you what I call my 17-STEP CUSTOMER ASSURANCE CHECKLIST. On it you'll see a list of everything I should have done. I read off each item and put a checkmark against it, showing that I have, indeed, completed the task. I then ask if you have any questions or concerns. If you do, and they are worth noting, I'll write them down on the checklist form. I'll also record, if necessary, my response. That way, you'll have a complete record of what took place.
So far, so good. But, you say, "How do I know that this isn't just a big smoke screen?" To be perfectly honest, you don't! Of course, I can repeat the report from the Better Business Bureau…
"Chet's has had 92 inquires about their company and 0 complaints. Companies like yours are what the Better Business Bureau stands for."
Chad Holloway
Better Business Bureau
West Florida
But even then, I understand, you can't be sure. That's why I include right there on the Customer Assurance form your ultimate risk-free out:
MY DOUBLE NO-RISK, MONEY-BACK GUARANTEE
1. Within 30 Days: Get Your *UNDEPOSITED Payment Back
2. Within 60 Days: Get Your Money Back
If, after your first treatment, you are not fully satisfied within 30 days, we will do a full re-treatment (all 17 steps) FREE OF CHARGE. Or I'll hand back your *UNDEPOSITED check, cash or credit card voucher. You read it right. For the first 30 days, I'm willing to take all the risk. (Why should you have to take any risk?) That means I promise not to deposit your payment for a full 30 days. Once you feel you are satisfied, then—and only then—will I feel comfortable enough to deposit your payment.
*request to hold check must be made in writing at time of service
It gets even better. Suppose after the 30 days you find some bugs are still there, creeping and crawling around your home. They shouldn't be, of course. But today, right now, you don't know that. After all, that's why you're paying me, a bug expert—supposedly. Well, you give me another call. And if it's within the 60 days of your first treatment, my people will come out yet again and repeat the full 17-Step Treatment. All at no added charge. If you're still not satisfied, you'll get all your money back.
So how could you lose? Think about it. You could end up with at least three full treatments:
1. The Original Treatment;
2. The 30-day Treatment;
3. The 60-day Treatment.
(Hey, if I haven't zapped every bug inside and outside you home by then, I won't just eat my words. I'll eat every new bug you find!)
You ask, why should I be so generous? (My accountant asks me this question all the time.) It's like this. Both of us know, one treatment won't give you a gnat's head of what you really want: a bug-free home—every inch of it. Including every square inch around your home. (Remember, no two homes are alike.) So just think. Sooner or later, I'll have a specific "bug history" for your home. No pest will ever escape my hunter/killer instincts. I'll know exactly what bugs are coming and going, and what to do about them—and when.
That way, you'll have far less fear of re-infestation, along with a reduced chance of having to call my office to complain. There again, even if you did, I'll have every incentive to treat you as a highly valued customer, as the following customers found out:
"Thank you for your company's wonderful service and standing behind what you claim. One thing for sure, I have not had a problem with ants of any kind, since my first day of service."In the past, I'd hired Orkin to get rid of the pharaoh ants when I was renting a condo in Tampa. They'd distributed little ant-buttons where the ants were streaming up the walls and in the ceiling. A month went by and still the pharaoh ants inhabited my little condo. When I complained about the situation, the Orkin representative's response was to tell me I needed to learn patience that it would take time. I finally came to the opinion that a person living had to make certain concessions to live here…one being that you had to cohabitate with the pharaoh ants. "When I had my new home built a couple years ago, I started having a problem with pharaoh ants right away. There were also fire ant hills in my yard, where they munched away on the new flowers I'd lovingly planted. "I knew better than to call Orkin again. I'd come to the decision that business people just don't have the ethics they used to have. Then I met you, Chet. Thank God. You presented yourself with the integrity and business ethics of my late Dad. He stood by his word and when he said something, you could "take it to the bank." "I'm so thankful I decided to give Chet's Pest Control a chance. Now, my new villa is bug-free and I never have to worry about my cat coming in contact with any kind of dangerous chemicals. The bi-monthly appointments are arranged around my busy work schedule. Your employees have always been highly professional, friendly, and helpful. They always have a smile and are willing to give or receive a friendly chuckle in addition to their patient assistance. "Again, thank you, Chet. For restoring my faith in Florida businesses, and delivering such high-quality service. I'm hopeful to find other business people with your integrity."
Diana Mullinax
Accountant
Wesley Chapel, FL
"In a world where truly "good customer service" seems harder and harder to find, you have continued to give us the best pest control service I have ever encountered! When you said you were the best…. You proved it to be fact! "Over the years you have treated my personal residence for Subterranean Termites as well as routine bi-monthly pest control. I was so impressed, I asked you to take over the accounts of Lindell VW-Honda, our Collision Repair Center and ultimately Mr. Lindell's personal residence. You treated his home for termites and most recently for carpenter ants. Well, it appears you did a "perfect" job once again! Many of our employees now use Chet's Termite & Pest Control for their personal residences. I would not hesitate for an instant to recommend your company to anyone. Your service and professionalism is impeccable."
Dale Welhoffer
Business Consultant
Tampa, FL
Schedule Your Service During The Next 10 Days And Get 3 Surprise Bonuses, Worth $225 — FREE.
So what are you waiting for? (The bugs aren't!) Pick up the phone and call (by the bonus date: see the certificate, next page). And just to make certain you do, I'm prepared to give you three surprise bonuses. They're worth $225.00 AND YOU GET THEM ALL JUST FOR CALLING AND SCHEDULING YOUR SERVICE…..
With benefits and a guarantee like this, HOW CAN YOU LOSE!
or call (813) 935-7554. Se Habla Español.
P.S. $225 of FREE services. Remember, you must call within the ten days, or by the Bonus Date stamped in red on the Bonus Certificate (see below), to receive your $225 worth of FREE bonuses.
P.P.S. No Smells, No Nothing. All the talk of zapping and killing bugs may be leaving you with the wrong idea. You may be thinking your family and pets may get harmed. Not so. All treatments use the least toxic products and are environmentally safe. Otherwise, the Environmental Protection Agency would go ballistic. Let me assure you, I use only those products that have been certified as non-allergenic, odorless and ecologically friendly. Most of these products, in fact, work by natural methods
P.P.P.S. Choosing a pest management company. Okay. You want to know what are the four key measures of an outstanding pest management company? Let me tell you. Make sure you ask to see some testimonials from happy clients and the company:
1. Has been certified by the Florida's Department of Agriculture. To make certain, ask to see a certificate.(Don't forget, the certificate can't be bought, only earned.)
2. Uses environmentally friendly materials and treatments.
3. Has an affordable, value-based maintenance program.
4. Offers a rock-solid, money-back guarantee. If you are not 100 percent satisfied, they should re-treat for free AND refund your money. Ask to see their testimonials like I've shown you.